Here is a gallery of some of the work I completed at my time at SJSU. This for should all be considered spec work and was not paid for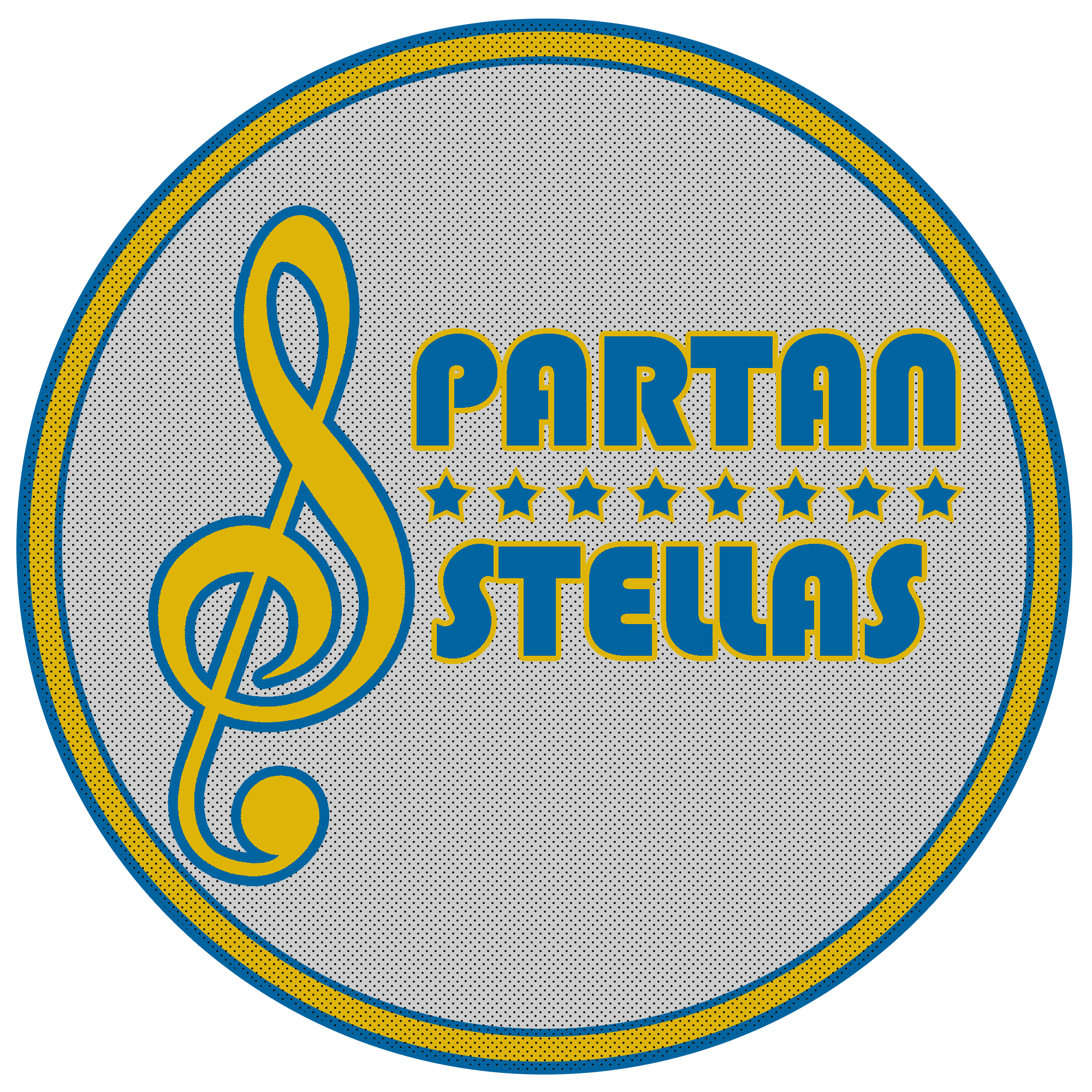 Logo I designed for an On-campus all women choir. I wanted to clearly represent that this was a musical group but alsoto keep the design minimal and scalable. Using the musical note As the "S" in Spartan clearly communicated the musical intent of the design. The colors are the San Jose State Colors down to the color codes.
In this first advertising project we were tasked to rebrand a local business. My group chose the local restaurant collective "San Pedro Square" to rebrand. Our idea was to make the Square more friendly to working families by creating unified "kids" menus and attracting them by using a simplified social media strategy and Google Geo-fenced targeted advertising.
In this second project my group came up with our own liquor brand. We decided on the name "Grizzly Bay" for two reasons; Grizzly bay is local Bay area waterway and Grizzly bears are a popular California mascot. Our unique selling proposition was " A California Bourbon from California ingredients". I came up with the tag line "A Bear of a Bourbon" which the group thought well suited the sprit of the sprit. I wish our creative was a little more developed but overall this was a cool concept to flesh out
Being Homeless
In this project my partner Salvador Gurrola and I were tasked to find an older homeless person in order to shed light on the issue of Greying in the homeless population. Santa Clara county has around 7000 homeless with about 2500 being chronically homeless. A large percentage of these people are older people with not a lot of hope to turn their lives around short of massive assistance or just a straight miracle.
For this project we located a man by the name of Ronald Roy Herrera (64) originally from Sacramento, who had been homeless for an extended amount of time. Roy talked about how his deep love and appreciation of his deceased sister (died of leukemia) continues to drive him forward. Ron also said he doesn't want to disappoint his daughters and society at large. Ron continued on to tell us about how he doesn't want to be homeless and is attempting to get himself to a better place. Ron also felt pride in his refusal to beg for money unlike so many other rather brazen members of the homeless population in Northern California. Ron has had a very difficult time while living in San Jose. After his sister died Ron got a job doing "tear off" at a series of warehouses unfortunately there was an accident and Ron woke up in the hospital several days later with a large wound on his head and a large scar on his arm.
Ronald went into a shelter but was told a short while after that he needed to find another place to sleep. Unfortunately due to the huge quantities of homeless in Santa Clara county most shelters packed having to kick people out after only relatively short amounts of time. These shelters are also not safe places as stealing amongst the homeless is a problem both in the shelters and even more so out on the street. Ron said "I need to sleep with my shoes on to keep them from getting stolen".
Ronald even in the face of adversity still has his self respect. Ron refuses to aggressively beg on the street and is searching for ways to better his situation in life. Ron believes that his belief in the power of grace of God ( Ron is a devote Catholic) has protected him in his homelessness. Ron uses this belief to drive himself forward on a daily basis. Ron also refuses to leech of his daughters believing that he needs to stand on his own two feet.
To Vote Or Not to Vote
In this project I asked what a first time voter thought about the election and what issue he was most concerned about. If I redid this assignment I would find a better place to record as there were some sound issues, but other wise it is a solid effort in my mind.
Life After Graduation
This Is this the first project I completed for my Mcom 63 New Media class, this project chronicles the struggles of finding work in the bay area for a recent SJSU Advertising grad. Im very happy with the way this video came out considering it was a first effort.